Presents
GCHB. Can GCH MACH2 Blacfriar Zenyatta Am/Can WCX, Am RM4,RAE2,CD,PCDX,SH,MX,MXG,MXJ,MJB2,OAP,AJP,MFS,OFP,T2B2,SCN,SIN,DSA, Can CDX,JH,AgI,AgXJ,NP
Hall of Fame
All Round Retriever Advanced
Versatility Dog
VFCR1
First Flat Coated Retriever in Agility in Canada in 2016
Second Flat Coated Retriever in Agility in Canada in 2017
Sire: GCH, Am/Can Ch. Blacfriar Seamus McGrath JH
Dam: GCH, Am/Can Ch. MACH Blacfriar I Am Sam-I-Am Am/Can UD,WCX, Am VER,RE,SH,MXB2,MJC,MXP3,MJP4,MXPB,MJPB,MXF,XFP,PAX, Can JH,AgX,AgXJ
Whelped: 10/27/10
Cerf: FR-356540, OFA Eyes: FR-EYE78/66F-VPI, Hips: FR-5173G24F-VPI, Patellas: FR-PA1914/24F/P-VPI, Elbows: FR-EL2158F24-VPI, Color Tested: BBEE,KBKB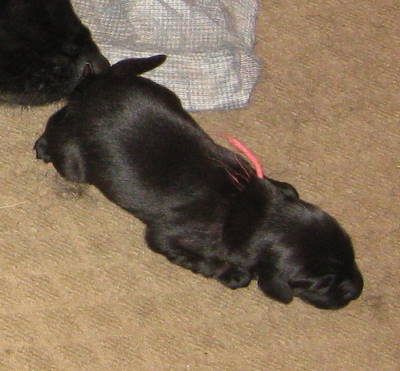 Zenyatta at 8 days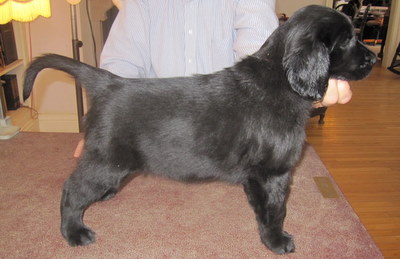 Zenyatta at 6 weeks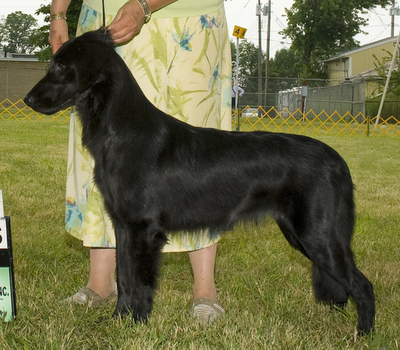 Zenyatta at 8 months taking WB for 5 points at a supported entry!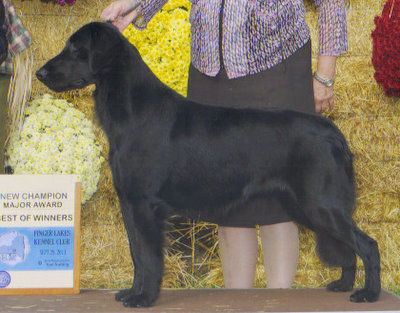 Zenyatta at 11 months finishing her Championship with a 4 point major!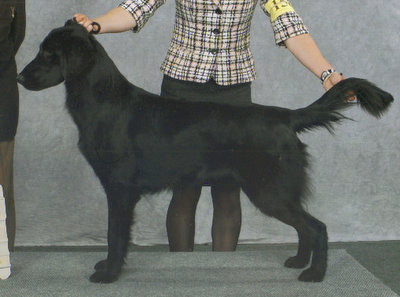 And now she's a Canadian Champion as well!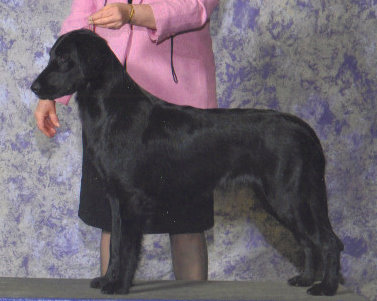 And finishing her Grand Championship at 14 months!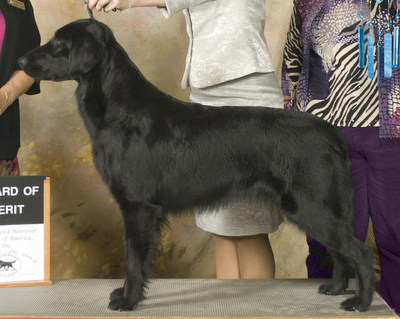 And taking a JAM at the National Specialty at 2 years old!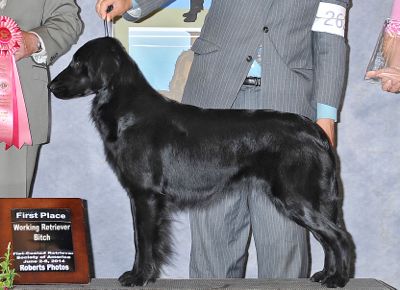 At the FCRSA Specialty in 2014 at 3 years of age!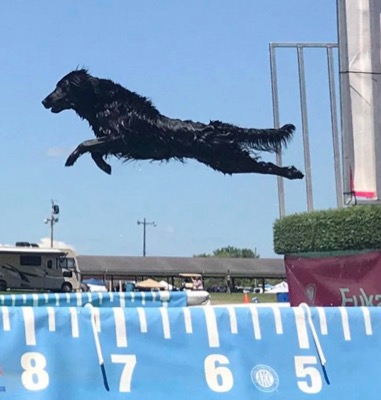 Zenyatta Dock Diving!
Achievements:
Zenyatta 11 years old and a four time Mom. She's very smart, highly motivated, and a very good imitator which is a sign of a very quick learner. And she's great fun to play with! She got her first title, a rally novice (RN), before she was 8 months old and now she's an American Bronze Grand Champion/Canadian Grand Champion and has a CDX in Canada and a PCDX in the USA as well as a JH and WCX. And she's having a ball running agility where she has rapidly gotten herself into Masters and now has a MACH! She is just totally enthusiastic about everything and runs at 110 MPH. She's certainly going to teach me to run faster!

Pedigree

Parents
GrandParents
GreatGrandParents
SIRE

GCH, Am/Can Ch. Blacfriar Seamus McGrath JH


GCH, Am/Can Ch. Quillquest Etched In Stone Am/Can WC, Am RN,JH,OA,AXJ,WCX


Ch. Agrebo's Hunter CD,NA,OAJ

Ch. Quillquest Phens Born To Win CD,JH

Am/Can Ch. Blacfriar Minnie Mouse RA

Ch. Gamekeeper's Time And The-Bell CD

GCH, Am/Can Ch. Blacfriar Play It Again Syd Am/Can UD,WCX, Am VER,RE,SH AX,AXJ,MXP2,MJP3,MXPB,MJPB,NF,XFP, Can AgI,AgIJ


DAM

GCH, Am/Can Ch. MACH Blacfriar I Am Sam-I-Am Am/Can UD,WCX, AmVER,RE,SH,MXB2,MJC,MXP3,MJP4,MXPB,MJPB,MXF,XFP,PAX, Can JH,AgX,AgXJ


Ch. Flat Castle's Brown Cole JH

Sunburst

Wizardwood Tawny Tancred

Am/Can Ch.Can OTCHX Blacfriar Amelia Earhart Am/Can JH, Am UDX,VER,RE,WCX,AX,AXJ, MXP3,MJP5,MXPB,MJPS,NF,OFP,PAX, Can WCI,AgI. AgIJ
Am/Can Ch. Darktarn Blac Phineas Am/Can CDX,WC, Am JH
Am/Can Ch. Exotic Mark Of Excellence Am/Can CDX,WC, Am NJP